Equestrian paddock & menage fencing.
We are regularly carrying out horse paddock fencing of all types, including post and rail, wire based horse fences including 'Tornado' & 'Keepsafe' are installed. We can supply either standard pressure treated timber or pressure creosoted timber. Electric fencing is an option and we often install the tape variety on timber posts. We can also fix a strand of wire to prevent chewing by horses which can be a problem with non electrified fences. If you are looking for something specific we can discuss your requirements and come up with a solution to suit.  Contact us >
This classic style of equestrian paddock fencing can be constructed in a variety of ways. eg square or round posts, varying number of rails or to incorporate sheep and/or rabbit fencing, electric etc.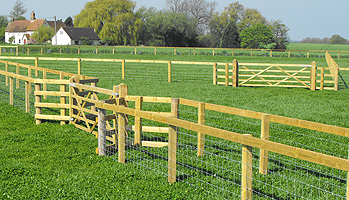 Fencing for your horse menage including any gateways and paths leading to it.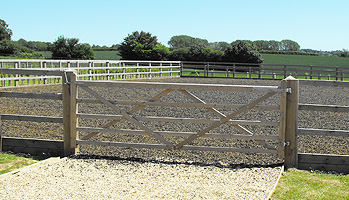 Smart metal fencing whether replacing old rusted or bent fencing or wanting to add a traditional long lasting fence.